There are more than 250 beef cattle breeds in the world and 60 percent of them are found in the United States of America. Today, beef cattle production businesses are as popular as dairy production businesses.
Here are some famous beef cattle breeds list:
Black Angus
Hereford Cattle
Piedmontese Cattle
Brahman Beefmaster
Aubrac
Caracu
Darkensberger
Limousin
Mongolian
Red Angus
Santa Gertrudis
Texas Longhorn
Gelbvieh
Wagyu
Throughout the world, the United States of America is among the largest exporters of beef. Undoubtedly, beef cattle are the beauty of any farm and considering the different types of breeds, they indeed are unique in their own ways.

A combination of breeds or any specific breed in any breeding program has a considerable effect on the profitability and efficiency of the cattle production industry. Each breed has its own reproductive efficiency, growth rate, maternal abilities, and because of these differences, the end product specification varies from one breed to another.
The production cost and overall nutritional requirements are entirely dependent on the type of breed as these are related to the size of the animal and the rate of growth. Therefore, in cross-breeding programs, it is essential to select suitable breeds.
Also Read: The Basics of Raising Beef Cattle
Let's learn about some of the famous beef cattle breeds.
1. Black Angus
It is the most popular breed in the United States. This breed outnumbers the rest breeds combined. It is because the Scottish people brought the longhorn herds, which were cross-bred with Angus. The hornless Angus was rejected initially, but the improvement in its flavor and tenderness increased its demand in the market with time.

They have a very low rate when it comes to problems relating to reproduction (dystocia) and their apparently heavy body weights made them popular in the cattle production industry in no time. In the present time, The Angus Beef Certified program requires more than 50 percent blackface and that the beef meets 10 standards of quality. The excellent qualities and nutritional values of Angus made it number one in the United States. Many meat sellers and butchers offer pure Angus beef throughout the U.S.
Read more about Black Cattle Breeds
2. Hereford Cattle
It is a British breed, from Herefordshire, England. This breed is known for its adaptability to various climatic conditions and its hardiness. Certified Hereford Beef requires a face that is 51 percent white with absolutely no markings in white on the shoulders, side of the body, and hip. They are lesser expensive than the Angus breed.
Males can weigh up to 1,800 pounds, while females can weigh around 1,200 pounds. They are muscular, with a moderate to lengthy side length and an appropriate leg length. They are large, trim, and smooth. They're also well-developed in areas where desirable cuts are produced, such as the back, loin, and hindquarters or round.
3. Piedmontese Cattle
They originated from the Piedmont region of Northwest Italy. Its genetic anomaly, known as 'double muscling', makes it unique. They have higher protein and less chemical fat, which is healthier for their consumers. It is difficult for Piedmontese dames to give birth to double-muscled calves due to their narrow birth canals, and because of this, Piedmontese bulls are cross-bred with Angus. This doubles the benefits. In the U.S, Piedmontese beef is made available by heritage farms.
4. Brahman
This breed is also popular as American Brahman. This breed has been exported by the United States to many countries including South America, Australia, Pacific Islands, etc. This breed is unique because of its large body size and average depth with legs of medium length and straighter back. They are mostly light gray in color but they can also be black or red. A mature female is lighter in color than a male. The male has darker areas on the shoulder, neck, flank, and lower thighs. A Brahman cow weighs around 500-700 kg whereas a Brahman bull weighs around 800-1100kg.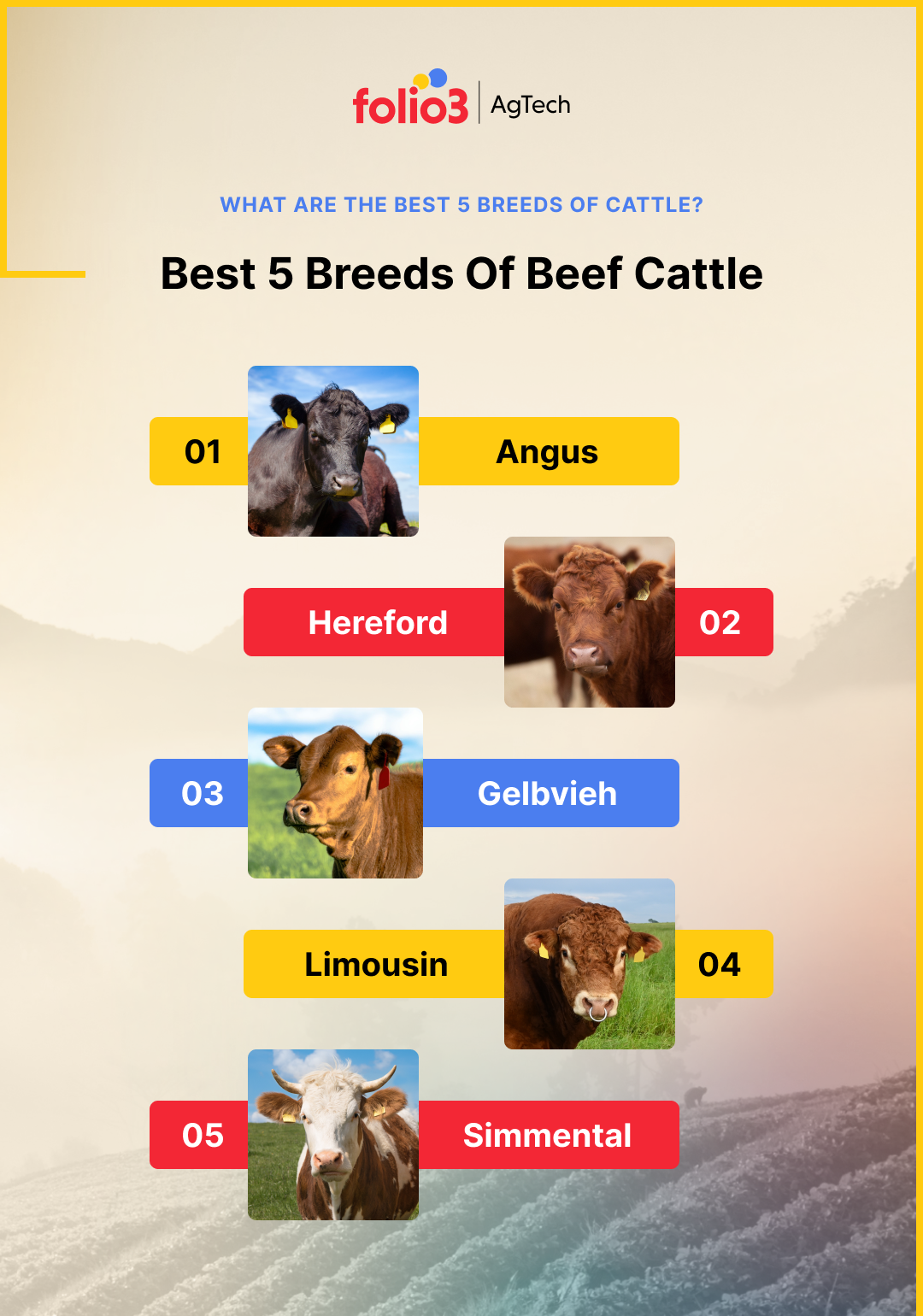 5. Beef Master
Originated in the United States of America, this breed is a result of cross-breeding between Shorthorn, Hereford, and Brahman cows. It has good fertility and excellent milking quality. They are mainly red in color. The bull weighs around 1200kg and the cow weighs around 800kg. This breed is popular because of its resistance to diseases and parasites. The animal of this breed is easy to handle as they have good temperaments.

FAQs
What breed of cattle is best for beef?
Angus is one of the most popular beef cattle breeds because of its ability to grow healthy bodies through grazing. This breed has a very low rate of problems relating to reproduction which makes it 'money maker' for cattle producers.
What are five common breeds of beef cattle?
There are more than 250 breeds of beef cattle all over the world but most popular among these are Angus, Brahman, Beef Master, Piedmontese, Herefordshire, Gelbvieh, and Limousin.
What breed of cattle is most profitable?
Angus: This is the most popular breed of beef cattle. Their meat quality is excellent and they provide 50 percent of their weight in the meat.
Highland Cattle: Though they are not as popular as they once were, they are still in demand by people who know love their meat. Their meat is rich in nutrients and is very tender. They can survive in colder climates as their thick-fur coat protects them from the cold. Their milk has higher butterfat content so they can also be used for milking.
Hereford: They can survive in almost all climatic conditions. Their market demand is notably high and they are less expensive than Angus. The animals of this breed mature early and are more efficient than the rest of the breeds.
Also read: Cattle Health Monitoring System to Keep them Healthy
How many beef cattle breeds are there?
British Breeds: These are the breeds that were developed in the British Isles and were later brought to the U.S in the late 1800s. Some common examples of British breeds are Hereford, Angus, and Shorthorn. They are generally smaller in sizes but their abilities are unique. Their fertility and easier calving processes make them easier to handle.
Continental European Breeds: These are known as exotic breeds. These include Gelbvieh, Limousin, Simmental, Charolais. They were imported to the U.S in the early 1970s mainly to improve the leanness and rate of growth of existing breeds. These breeds are larger in size when they reach an older age. They have less fat.
What is the fastest-growing beef cow?
Among all the popular breeds of beef cattle, the Gelbvieh breed is becoming the fastest-growing beef cattle breed in the United States. Gelbvieh breed's demand is increasing among the cattle producers and also among the consumers while the other breeds are somehow experiencing a decline in their sales and demand. The growth of Angus has apparently slowed down whereas the Gelbveih continues to enjoy increased production and market demand.
Custom Software Solutions to Modernize Your Cattle Management