Whether large or small, effective cattle health records are vital in managing animal health and performance and ensuring high-quality beef production. Digital record-keeping for cattle, regardless of operation size, can boost profitability and promote industry sustainability. If you're a rancher, your key to inevitable success is to prioritize good record-keeping for long-term success.
Lucky for you, we've penned down all you need to know regarding this matter in order to own a cattle farm that is problem-free and one that promises the greatest profitability and efficiency, making cattle management a piece of cake.
Cattle Health Records: Their Importance and Impact
Cattle health records allow ranchers to track each individual animal's health and monitor any changes in behaviour or symptoms of illness. By maintaining individual animal health records, farmers can
Quickly identify potential health issues
Implement early intervention measures
Prevent the spread of diseases within the herd
Additionally, accurate cattle health records provide insight into the disease prevalence within the herd.
Benefits of Maintaining Cattle Health Records
Here are some key benefits of keeping up-to-date cattle health records
1. Early Detection of Health Problems
As a cattle owner, you would know how important it is to keep track of the health of the cattle and also promptly respond to any treatment needed as it is what your entire performance depends on.
So, let's look into what you can do to detect any potential health problems in the cattle at the earliest:
Regular recording of cattle health data
Identifying potential health issues early on
Prompt intervention and treatment
Preventing disease spread.
2. Timely Treatment of Diseases
Well, we all know that prevention is better than cure. Similarly, it isn't just enough to detect the health problem at hand but to also treat it effective in a manner that the problem itself won't persist and will not re-appear in the near future.
Here's what you can do to ensure that:
Accurate health records enable informed diagnoses
Prescribing appropriate treatments
Increasing the likelihood of successful outcomes
Reducing the need for antibiotics
3. Improved Herd Management
As a result of proper health record-keeping, you'll definitely notice Improved Herd health, all thanks to your timely detection and treatment.
Below is how you can make this management practice more efficient:
Cattle health records monitor individual animal performance
Tracking breeding, feed, and medication schedules
Identifying trends and patterns
Informing decision-making and improving herd management
4. Improved Productivity and Profitability
Now, we all know what a happy herd means: great productivity! Which, in turn, means greater profitability in the market.
This will boost your farm's performance to the level that you'll be proud of how you've managed things so far.
You can maintain this productivity by:
Early identification and addressing of health issues
Maintaining accurate health records
Reducing illness and mortality incidence
Improving productivity and profitability

Methods of Recording Cattle Health Data
Here are some of the ways to keep track of cattle health records.
Paper-based systems involve documenting health data on physical forms, while electronic systems involve using software to record and analyze livestock analytics.
Electronic systems and smartphone applications are becoming more and more common because of their usability and capacity for more effective data analysis.
While the most convenient method of herd health management is through smartphone applications.
How Cattlytics Can Help Manage Cattle Health Records More Efficiently and Effectively
Here are some ways for cattle health records using Cattlytics.
Cattlytics app allows ranchers to record individual animal health records, and history, including medical, treatment, vaccination, and illnesses.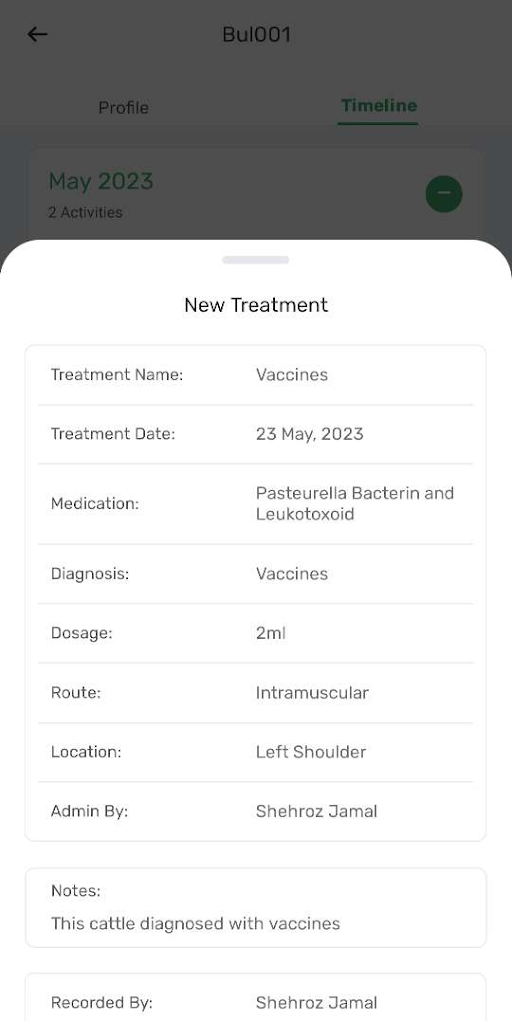 It helps farmers with breeding and reproduction records. Such as animal breeding, due date, and complications during pregnancy.
Cattlytics also help ranchers for tracking vaccination and treatment records of animals who have been vaccinated and administered to make sure all animals are up to date.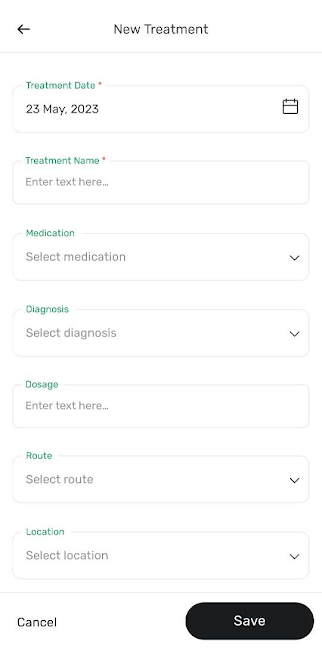 The app also helps in keeping feed and nutrition records including the cattle's feed and any nutritional supplements they are receiving.
Lastly, Cattlytics allow disease and illness records for tracking any disease or illness outbreaks on their farm, as well as any individual animals that have been affected.
Conclusion
Keeping accurate cattle health records is essential for sustainable livestock productivity optimization and biosecurity management and the Cattlytics app helps you a lot in doing so. With this app, you can have the entirety of your cattle farm at your fingertips; from monitoring pasture movement, to keeping treatment records and breeding details, Cattlytics will boost your business like never before.