For farmers, just like for other business owners, the first step in maintaining accurate accounting records is the selection of the most appropriate farm accounting software. Increased efficiency in agriculture has been achieved in the recent decade at a rate that was unthinkable merely a generation ago. Technology has enabled farmers to increase the amount of produce produced per acre, but for this, each farmer must actively monitor and control the accounting software.
The farming business is a full-time profession that requires dedication and hard work. After a long day in the fields or in the barn, the last thing on your mind is your company's financial records and bookkeeping. It's critical to maintain accurate financial records for your farm, just as it is for any other kind of business owner.
The Need for Farm Accounting Software
Independent farms must keep detailed records of their annual seed or livestock expenses, as well as their pesticide and herbicide purchases, labor costs, and equipment purchases. They must also keep track of their transportation and silo storage fees. Because of the enormous quantity of crops or animals handled each day on bigger independent and corporate farms with several sites, greater information and built-in financial management systems are required.
As a farmer, it is critical to have farm accounting software that is precise and up to date. Every farmer aims to increase productivity while simultaneously minimizing the number of resources and money spent on the production process. As a result, it is critical to keep track of everything that occurs on the farm at all times. Manual accounting systems, on the other hand, are prone to errors and require a significant amount of time to complete.
Best Farm Accounting Software
With options for small family-owned farms to massive multi-site, multi-crop companies, this list highlights the best accounting software for agribusiness based on the size of the agricultural operation in question.
EasyFarm
EasyFarm is a fantastic choice for small farmers and ranch managers who require accounting software that is both simple to use and rich in features while still remaining affordable. This software comes preconfigured with a standard farm or ranch chart of accounts, which makes it simple to get started. The asset account ledger has the appearance of a cheque book, which makes the interface plain and easy to understand and use. Users can create as many distinct transaction accounts as they require.
EasyFarm's farming and animal management features include modules for managing customers, crops, and finances, as well as ledger capabilities for keeping track of multiple books. Additional functions include barcoding (RFID), order processing, traceability, and meteorological data, amongst others. Depending on the needs of the user, each tier of EasyFarm can be scaled up or down in complexity.
EasyFarm Lite, EasyFarm Plus, EasyFarm Pro (Crops or Livestock), and EasyFarm Premier are just a few of the available programs. Simple Farm's input option allows producers to keep track of a variety of information, including weight, harvest area (measured in acres), the percentage of sales that went to each vendor, as well as the name and truck number of each driver.
The ability for larger farms to establish cost centers to track expenditures according to specific areas of the farm is possible; in addition, information on milk production, crops production, animal output, and sales are all readily available. The built-in payroll monitoring feature can be customized to meet the specific requirements of each state.
In addition to pre-tax deductions and retirement contributions, the payroll module offers automated overtime computations as part of its payroll processing. In addition, automated reporting to the appropriate government authorities, as well as the generation of year-end employee tax documents, are included.
TraxView
TraxView comes pre-installed with a slew of essential capabilities. Accounting, commodities accounting, general ledger, order entry, and even point-of-sale activities are all included in TraxView's suite of business management applications (POS). Barcode scanning, a real-time on-hand inventory, and seamless interaction with the commodity accounting module are all incorporated in the order entry and point of sale (POS) functionality.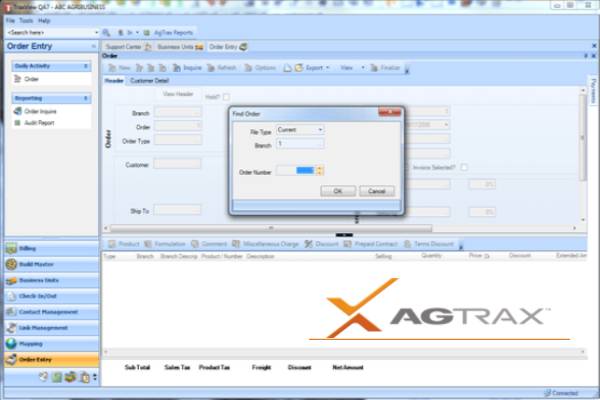 The pricing, tax rates, discount percentages, and delivery locations may all be customized to meet the individual requirements of each customer. Farmers may better manage their operations by using inventory management, which includes tiered pricing, units of measurement, and shortage warnings, among other features and functions.
Withholding tracking and direct deposit are both incorporated in the payroll software that comes pre-installed. Farmers will be able to monitor and submit quarterly and annual tax returns for cafeteria programs with the use of this information (e.g., Section 125).
Farmers can use TraxView to keep track of customers that pay on time and use this information to help them determine whether or not to extend credit or demand payment in advance. Customers may access their account information with OnlineAccess (formerly known as PatronAccess), an add-on module that automatically maintains a record of prepaid contracts in a separate sub-ledger.
CenterPoint Accounting Software
The CenterPoint software can be installed on a computer or on the cloud. Farmers can use it to determine whether or not their yields are lucrative.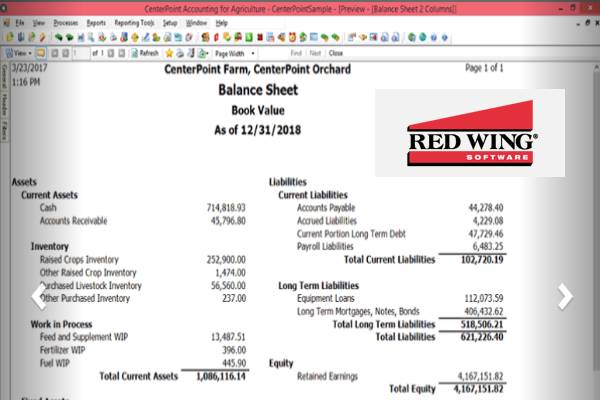 CenterPoint equips farm owners and managers with the information and resources they need to make informed financial decisions. Take, for example, the general ledger's ability to automatically produce a wide range of financial ratios and indices, such as those suggested by the Farm Financial Standards Council and those created by the Ferguson Group.
Additionally, for each ratio and index, there is the option to go down and examine data from many years in the past. CenterPoint's accounts payable function, straightforward receivables function, financial analysis options, and cash management capabilities are all key components of the system. The program also includes automated depreciation calculations, which save time and allow farmers to make informed decisions about their financial future.
Also Read: Accounting ERP Software for Poultry Industry
Wave
Wave is a cloud-based double-entry accounting tool that works on a range of mobile devices. It does not need users to download and install anything. Instead, Wave operates directly from the web browser. Because it is a free tool, its capability is rather limited, but it should be sufficient for a modest farming operation.
To reduce the likelihood of data input errors, Wave provides an enormous number of invoice templates, as well as invoice and receipt scanning, which is essential.
Additionally, Wave features built-in and readily customizable reminders for things like missing payments and bills, as well as other important events. Payments may also be processed using several alternative systems, including PayPal and Wave Payments, using the Wave Payments platform, as well.
The consequence is that Wave's expense management and accounts payable capabilities are extensive. Wave automates most of the cost monitoring process by using bank feeds, which makes it easier to pay invoices and keep track of expenditures.
Also included are limitless bank account and credit card connections, as well as billable costs and time monitoring, as well as an infinite number of receipt and invoice scanning sessions.
The Farmer's Office
The Farmer's Office is fully equipped with everything you might possibly need to keep track of your farm finances. Considering that it is a Windows desktop program, the menu-driven interface will be familiar to the majority of users.
There are also a variety of automation options that enable farmers to concentrate on what they do best while saving time and effort. Although the platform is a general ledger-based accounting system, many of its features are tailored to the needs of agricultural businesses.
As a result, add-on modules are necessary for key functions such as accounts receivable management. The Farmer's Office offers comprehensive cost accounting, which is exactly what most farmers want.
All of the cost accounting tools available in The Farmer's Office, including crop year monitoring, crop budgeting, equipment pricing, and consolidated reporting. It is even possible for large, multi-location businesses to divide their holdings through the Farmer's Office.
An additional feature included in the app is a pesticide application reporting function, as well as an easy-to-update chemical inventory database. It is necessary to cost-account for pesticides and keep track of their usage to avoid revenues from being wiped out by over-application. Farmers and their accountants can obtain many different reports on the internet. The ability to produce custom reports on an as-needed basis and export them to Excel is available.
Conclusion
An extensive selection of accounting software tailored specifically for the agricultural industry is available. Choose a farm accounting software that can be tailored to your business needs so that you can have most of the operations efficiently automated.