As agricultural land and its eminent need continues to grow, the role of advanced technology in enhancing crop management practices becomes even more crucial. Across the USA, Farmers are realizing the benefits of using crop management software in their routine operations.
A crop management software is designed to manage and optimize different farming aspects such as planting, irrigation, pest control, and yield monitoring. Choosing the right software is, therefore, undoubtedly essential.
By choosing the best crop management software that aligns with the farm's needs, farmers can benefit greatly from increased efficiency, productivity, and profitability in their fields.
In this guide, we'll discuss the top 12 best crop management software in the US and look into how each of them stands out from the rest.
Top 12 Crop Management Software Solutions in the US: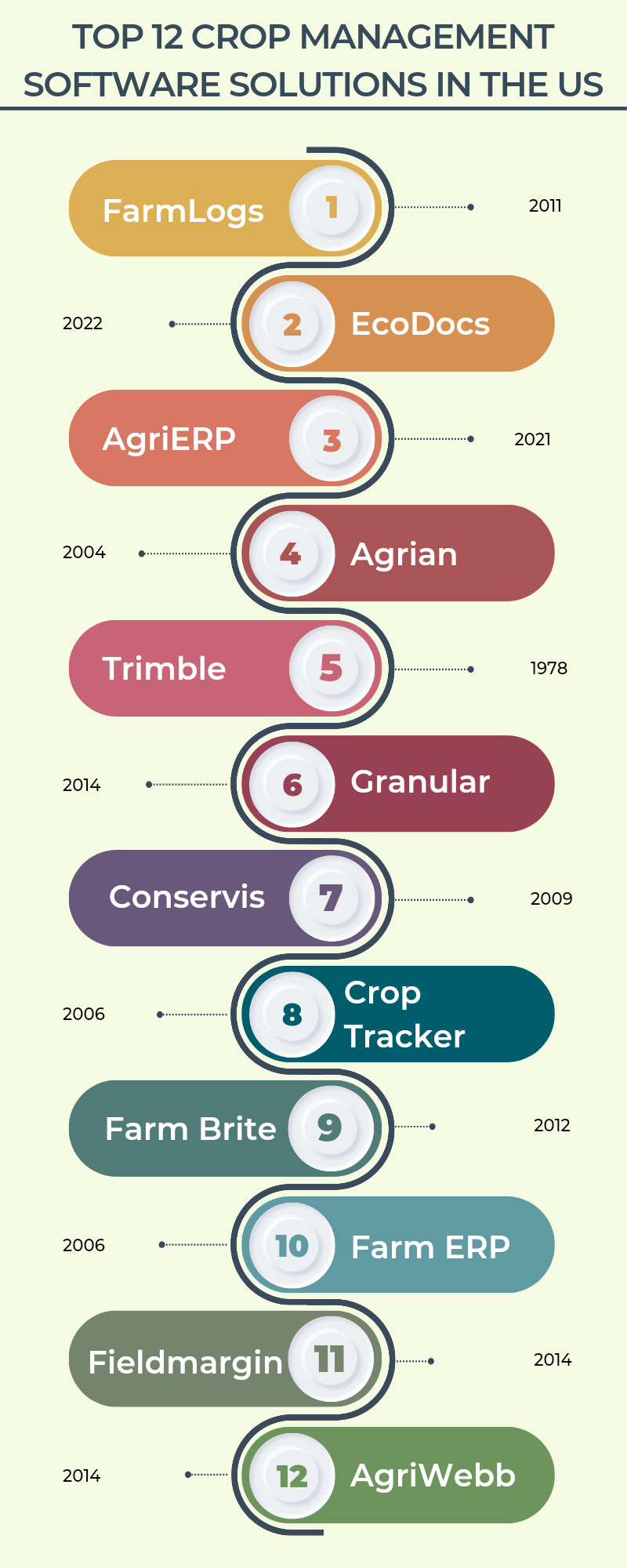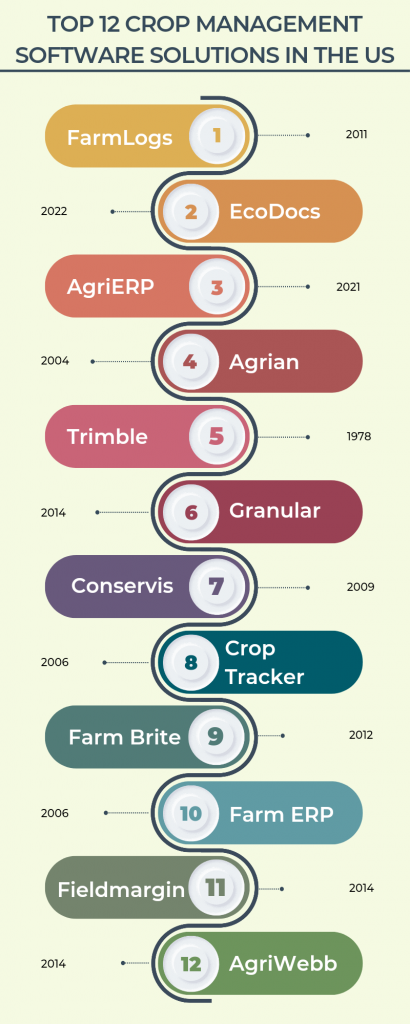 Below are the top agricultural software solutions that are being used across the USA as sustainable farming software.
FarmLogs:

In the realm of farm management tools in the US, one notable application that has gained much popularity since its inception in 2011 is FarmLogs. It was developed to simplify and streamline farming processes by offering:
User-friendly features.
Real-time monitoring and analysis of field conditions.
Weather patterns.
Crop performance.
FarmLogs also provides a range of customizable tariff plans with add-ons to cater to the client's specific needs.
EcoDocs: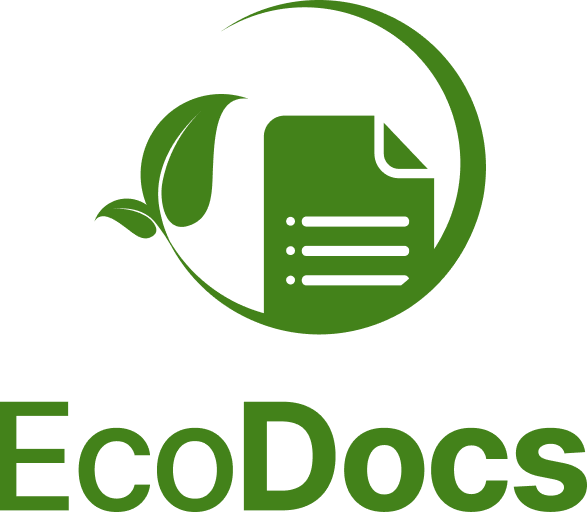 EcoDocs by Folio3 Agtech is a cloud-based food safety and compliance management software that makes room for enhanced productivity and agility for meat processors and crop management farms.
It organizes, tracks, and schedules your quality, compliance, and maintenance management tasks. Here are some of the top-notch features EcoDocs offer:
Task Scheduler
Streamline record-keeping (Customizable digital forms).
Facilitate Audits & monitoring (FDA Compliant).
Food Safety Inspections (HACCP Compliant).
Manage Compliance Processes.

AgriERP:


AgriERP is one of the top agriculture software solutions known as Agricultural Enterprise Resource Planning (ERP).
It streamlines agricultural operations, integrates functions like crop planning, inventory management, and financial analysis, and helps farmers and agribusinesses achieve efficient and profitable outcomes.
Agrian:

Another comprehensive farm management tool in the US, Agrian enables farmers to track and manage their crops, chemicals, and fertilizers. It provides tools for planning, scouting, and compliance management, helping farmers enhance their operational efficiency.
Trimble: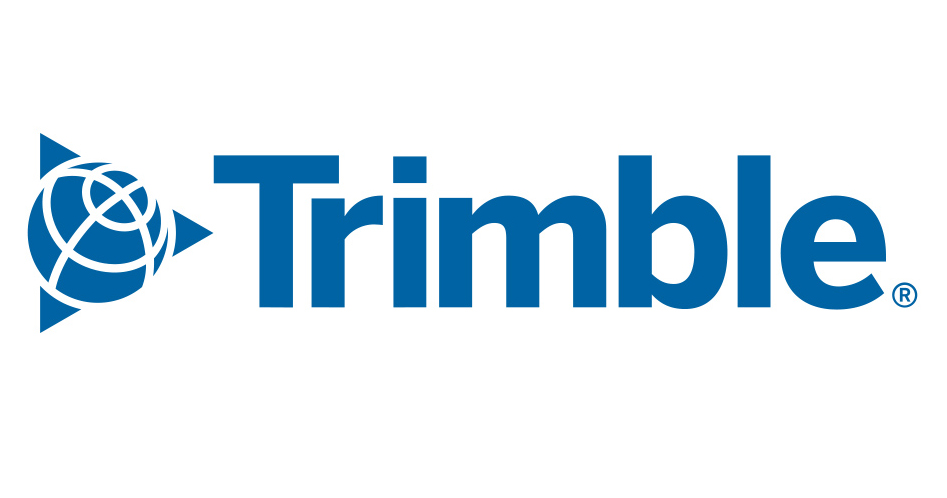 Trimble Ag Software is a comprehensive field management software that covers crop planning, field scouting, inventory management, and more. With its seamless integration with precision agriculture tools, Trimble Ag Software allows farmers to maximize efficiency and make data-driven decisions.
It is a powerful tool, ensuring farmers can leverage the latest technologies to achieve precise planting, accurate nutrient application, and efficient irrigation practices.
Granular: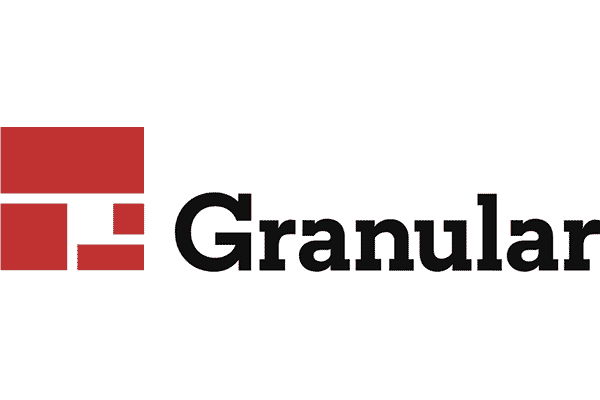 Granular stands as a powerful tool for agricultural data management and farm optimization, helping farmers achieve greater success in their operations. It offers farm management software solutions, including crop planning, inventory tracking, and financial analysis.
With data-driven insights, Granular optimizes farm operations, empowering farmers to make informed decisions that drive profitability. Its multi-location feature allows farmers to view diverse terrains in one window, enhancing efficiency and convenience.
Conservis: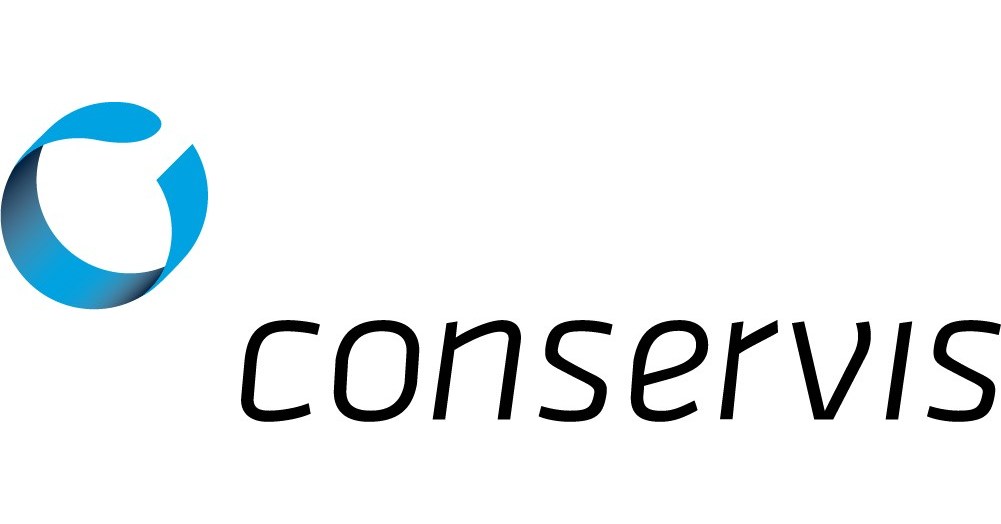 Conservis is a livestock management software that digitizes recordkeeping, inventory management, and logistics. It helps farmers plan work, track field activity, and project farming costs.
By collecting and analyzing farm data, Conservis enhances monetary flow insights for row and permanent crops. With Conservis, farmers can streamline operations, increase efficiency, and optimize livestock management processes.
Crop Tracker: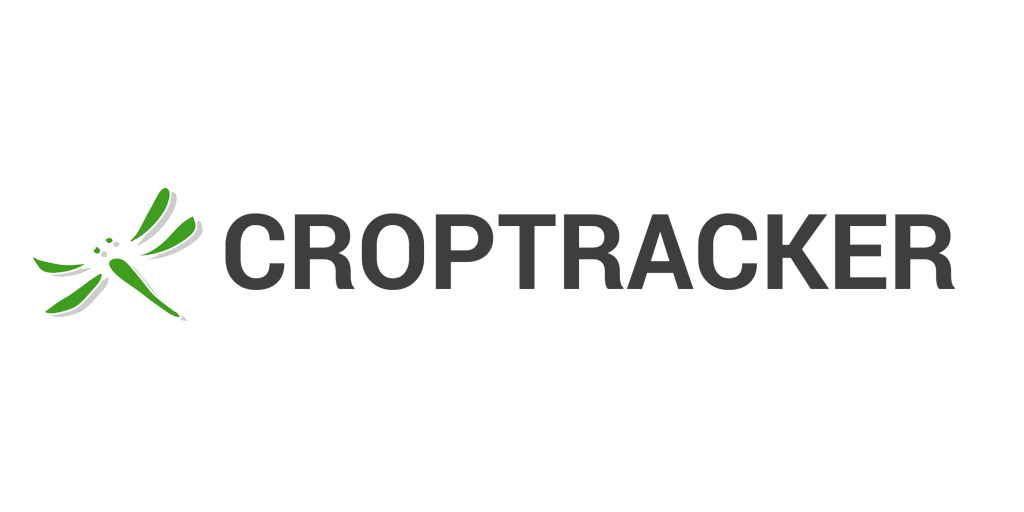 Croptracker offers advanced farm management software designed for fruit and vegetable farms. With Croptracker, farmers can effectively manage their agriculture operations, maintain accurate records, measure performance, and track labour and production costs.
It allows scheduling production activities and providing instructions to the crew, all while keeping track of their progress. Croptracker also offers comprehensive support, ensuring farmers have assistance at every step of their journey.
Farm Brite:

Farm Brite is an efficient farm software for livestock and crops. Their livestock management software optimizes breed management, grazing rotations, and soil health while securing critical records.
The versatile farm software tracks and manages crop health, production, and soil health. Additionally, Farm Brite provides an e-commerce store service for direct online marketing and sales.
With Farm Brite, farmers can streamline operations and maximise productivity in their livestock and crop management.
Farm ERP: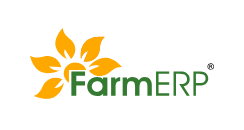 Farm ERP is a versatile farm management software platform that supports agricultural stakeholders throughout the entire value chain. From planning and management to accounting, inventory, and sales, Farm ERP provides a wide range of solutions.
Built on foundational pillars of sustainability, traceability, food safety, and climate resilience, Farm ERP offers services tailored to various sectors, including
Plantation Farming Packs
Exporters and Packers Packs
Plant Biotech Packs
Hydroponics Packs
Livestock Pack, and more.
Fieldmargin: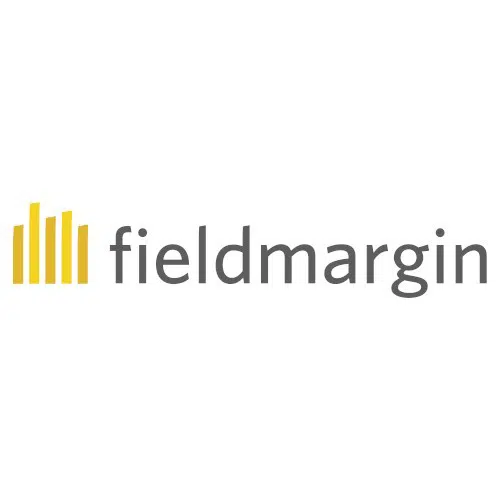 Fieldmargin offers a range of features to simplify tasks such as field mapping, crop planning, task management, and record keeping. With Fieldmargin, farmers can easily map their fields, mark boundaries, and track the progress of their crops.
The software also allows for effective communication and collaboration among farm teams, ensuring everyone stays informed and that the tasks are completed on time.
AgriWebb: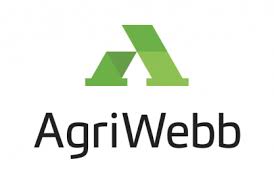 Another one of the best crop management software platforms is AgriWebb which offers a comprehensive set of tools and features that assist farmers in tasks such as livestock management, inventory tracking, pasture monitoring, and financial analysis.
With AgriWebb, farmers can easily record and track important information related to their livestock, including weight, treatments, and movements. The software also enables efficient planning and scheduling of farm activities, helping farmers stay organized and optimize their operations.

Comparison of Features and Pricing:
Here is a comprehensive comparison of the features and pricing plans for the top 12 crop management software solutions, including our custom software solution.
The table highlights key features such as data management, analytics, inventory tracking, crop planning, mobile accessibility, and support.
Remember that pricing and features may vary, so it's important to visit each software provider's website for up-to-date information.
| | | | | | | | |
| --- | --- | --- | --- | --- | --- | --- | --- |
|  Software Providers | Data Management | Analytics | Inventory Tracking | Crop planning | Mobile Accessibility | Support | Pricing |
| Farms log | | Basic | | | | Email | $20 per month |
| Climate FieldView | | Advanced | | | | Email | $999 per year |
| AgriERP | | Advanced | | | | Phone | Contact |
| Agrian | | Basic | | | | Email | Contact |
| Trimble | | Advanced | | | | Phone | Contact |
| Granular | | Advanced | | | | Email | Contact |
| Conservis | | Advanced | | | | Phone | Contact |
| Crop Tracker | | Basic | | | | Email | $500 per month |
| Farm Brite | | Basic | | | | Email | $50 per month |
| Farm ERP | | Advanced | | | | Phone | Contact |
| Field Margin | | Basic | | | | Email | £25 per month |
| AgriWebb | | Advanced | | | | Phone | $3/acre per year |
The pricing may vary depending on the size of the farm, the number of users, and the additional features required. It is advisable to contact each software provider directly for accurate pricing details and to discuss any custom software solutions.
Benefits of a Custom Software Solution:
Opting for a custom software solution for crop management offers several advantages over generic or off-the-shelf software.
Here are some of the benefits:
Tailored to Specific Needs:
Custom software solutions are built to address the specific requirements and challenges of crop management.
It can be customized to fit the unique workflows, processes, and data management needs of your agricultural operations, ensuring that the software aligns perfectly with your business goals and enhances productivity.
Custom software solutions provide a high degree of flexibility. You have control over the features, functionality, and user interface of the software.
As your crop management processes evolve, the software can be easily adapted and upgraded to accommodate new requirements and technologies. This flexibility allows you to stay ahead of the curve and respond effectively to changing market conditions.
With a custom software solution, you have the ability to scale your crop management system as your business grows. Whether you expand your operations, add new crops, or diversify your agricultural activities, the software can be scaled up to handle the increased data volume and user load.
This scalability ensures that your software remains efficient and reliable as your organization expands.
Integration and Compatibility:
Custom software solutions can be seamlessly integrated with your existing systems and software applications. Whether you need to connect with external devices, sensors, or data sources, a custom solution can be designed to facilitate smooth data exchange and interoperability.
This integration eliminates data silos and allows for centralized management, improving efficiency and decision-making.
Streamlined Workflows and Automation:
Custom software solutions can automate repetitive tasks and streamline workflows in crop management. By digitizing manual processes and utilizing advanced algorithms, the software can automate data collection, analysis, reporting, and other routine activities.
This automation saves time, reduces errors, and frees up resources for more strategic tasks, ultimately improving productivity and profitability.
Data-driven Decision Making:
Custom software solutions, such as AgriERP, enables comprehensive data management and analytics. You can gather and analyze real-time data on crop yields, resource utilization, weather patterns, inventory levels, and more.
A data-driven approach empowers you to make informed decisions, optimize resource allocation, identify trends, and mitigate risks. It helps you maximize productivity, minimize waste, and achieve better crop management outcomes.
Enhanced Security and Privacy:
Custom software solutions provide better control over data security and privacy. You can implement robust security measures tailored to your specific requirements, ensuring that sensitive crop and business data is protected from unauthorized access and breaches.
This level of customization allows you to comply with industry regulations and build trust with customers and stakeholders.

Conclusion:
Choosing the best crop management software is essential for farmers to improve their farms' efficiency and productivity. The top 12 software solutions discussed in this blog post offer a range of features and benefits to meet diverse farming needs.
Folio3's custom software solution provides tailored solutions that align with specific requirements, offering flexibility, scalability, and seamless integration.
These software solutions streamline workflows, automate tasks, and enable data-driven decision-making, enhancing productivity and profitability in crop management.
Therefore, selecting the right software solution is crucial for farmers to leverage technology and optimize their operations in the ever-evolving agricultural landscape; and lucky for you, Folio3's custom software solutions can help you achieve all this and more, making sure you're at the top of the game!
FAQs:
Q1: How can crop management software help improve farm productivity?
Crop management software improves farm productivity by streamlining data collection, automating tasks, and providing real-time insights.
It optimizes resource allocation, enhances inventory and supply chain management, facilitates collaboration, and enables data-driven decision-making, leading to improved efficiency, reduced waste, and maximize yields.
Q2: Are these software solutions suitable for different farm sizes?
Yes, the listed software solutions can be suitable for different farm sizes. They are designed with scalability in mind, making them adaptable to the needs of small, medium, and large-scale farms.
The software can be customized to accommodate the specific requirements and operations of each farm size. Whether it's a small family-owned farm or a large commercial operation, the software can be tailored to fit and provide value accordingly.
Q3: Can I integrate the crop management software with other farm management tools?
Yes, crop management software solutions can be integrated with other farm management tools.
They offer compatibility and integration capabilities with third-party tools such as IoT devices, sensors, or other farm management systems, allowing for seamless data exchange and interoperability.
Q4: How do I choose the right crop management software for my specific needs?
To choose the right crop management software, identify your farm's specific needs, evaluate scalability, consider your budget, assess ease of use, seek compatibility with existing tools, and consider the level of support and updates provided by the vendor.