Inspections for food safety generally focus on the evaluation of your food business to check compliance with the food safety standards in your meat processing plants and how effective the food safety management system is. So, What is the point of focus during health inspections?
These inspections mostly focus on the plant design, hygiene practices and employee behavior, meat handling, pest management, and the food safety management system in place.
Once you have a digital food safety management system in place, you can organize all the documentation and meet the requirements for accountability while also being compliant with the requirements of food safety.
What is Food Safety Inspection?
When it comes to health, risks are not an option. So, what could be a better way to ensure the safety of the food we ingest than to come up with a way that would rid us of all our worries regarding the safety of the food?
Lucky for us, that is exactly what a food safety inspection does; it thoroughly scans the food to detect little troublemakers such as:
Germs
Microbes
Harmful microorganisms
This procedure is standard for all food industries and businesses and is considered a crucial procedure that everyone must practice. It also evaluates a business's compliance with the set food safety standards and its proficiency in establishing an effective food safety management system.
Most Important Elements in a Food Safety Inspection
During a food safety inspection, the most critical key elements to observe are:
Cleanliness and hygiene

Harmful microorganisms can easily travel from one place to another and lead to contamination and foodborne illnesses. Therefore, ensuring that cleanliness is maintained and proper hygiene practices are followed is extremely important.
Storage of raw and cooked ingredients

Uncooked food (meat, poultry, and raw vegetables) tends to carry harmful pathogens. Therefore, it must be kept separate from cooked ingredients to make sure that the pathogens don't make their way to the general public.
Thorough cooking

Cooking at a minimum temperature of 70 Degrees Celsius has the power to eliminate harmful microorganisms, especially when cooked in large quantities. Thus, thorough cooking is one of the most crucial elements of a food safety inspection.
Maintaining optimum temperature

To maintain safety, food must be stored at a temperature above 60 or below 5 Degrees Celsius and avoiding unnecessary storage of old ingredients can help keep away harmful microbes.
Proper utilization of water and raw ingredients

Raw ingredients and water in the form of ice cubes can contain harmful chemicals and microorganisms. Therefore, they must be properly stored and utilized.

How does Food safety inspection work for meat processing plants?
Food safety inspections aim at ensuring compliance with the food safety standards set by the regulatory authorities. Similarly, for meat processing regulations, these inspections double-check if the meat in production is safe for consumption by humans by:
Conducting physical inspections
Reviewing records
Identifying violations
Addressing potential hazards
What Do Food Inspections Do, and Why Do the Inspectors Visit?
These inspections ensure that the meat production business is compliant with the food safety laws in place to protect the health of the end consumer.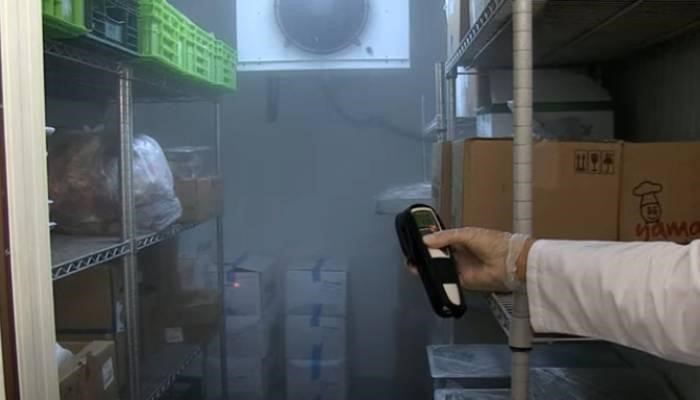 The health inspectors from your local regulatory body can enter your premises during business hours any day of the working week to carry out inspections. They can come for routine or surprise inspections to investigate compliance with the food safety laws and low ratings of the business. They could also visit because it is possible that customers have complained about the business or if there is certification validity due.
What Should My Meat Processing Plant Focus on to Pass Inspections?
If you have a business related to the food industry, you should always be ready for inspections by food safety agencies. It is important to make sure that there are no traces of hazardous microbes present in your work environment. You should be committed to following all the safety laws to their maximum potential.
It is also critical for the staff to be aware of all the safety protocols as well, as these will help prevent foodborne illnesses. These food safety protocols will also ensure the safety of the meat by following the highest standards, and also help the plant grow through excellent customer ratings and increased consumer acceptance as well.
Read More: What Does Food Safety Mean and What are the Different Stages to Ensure Food Safety?
What Will Happen If My Meat Production Plant Fails the Food Inspections?
After the food safety inspections have been carried out, your meat processing plant will receive a food health inspector report listing, which will include all of the negative and positive aspects that were identified during the inspection.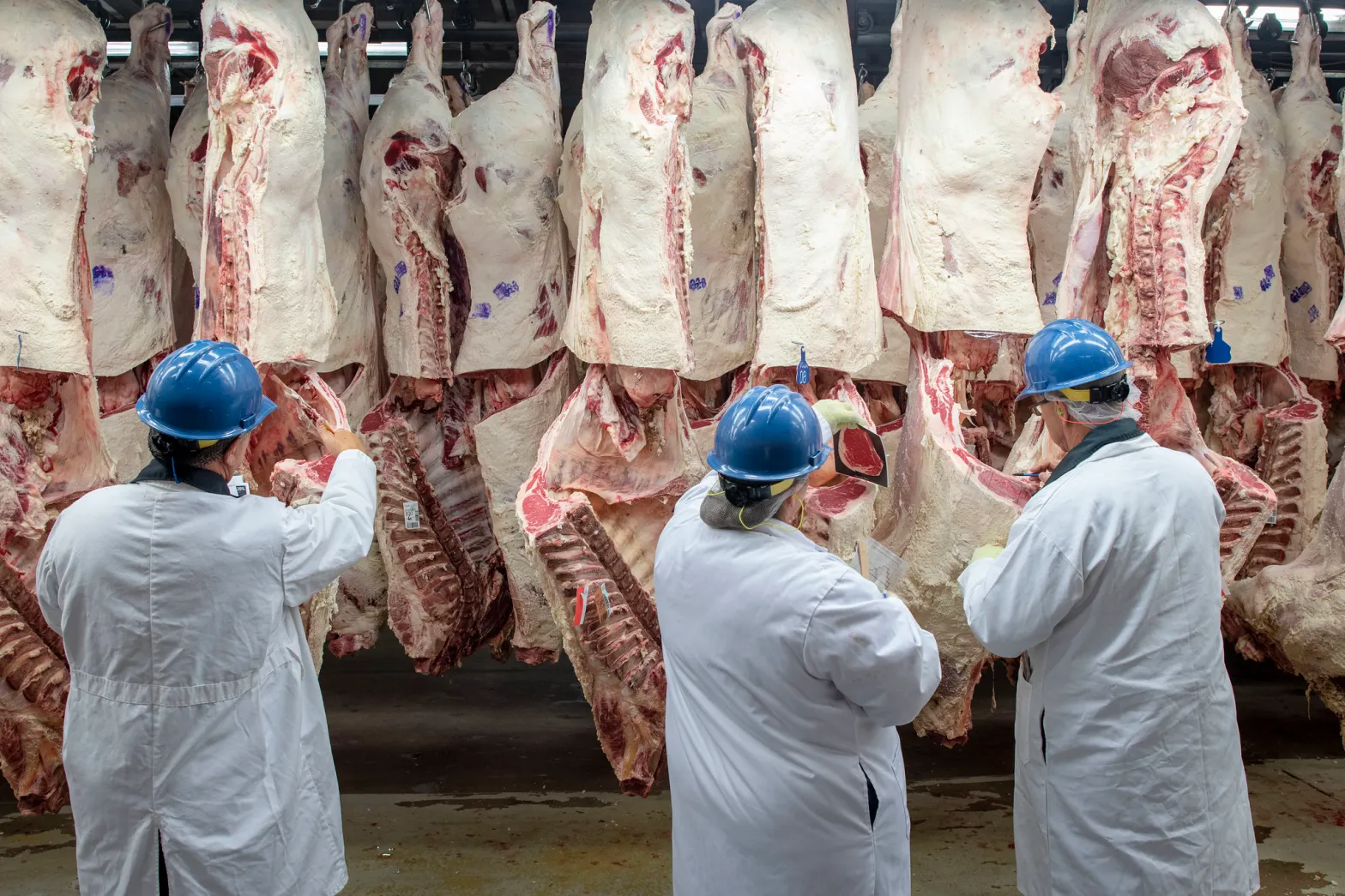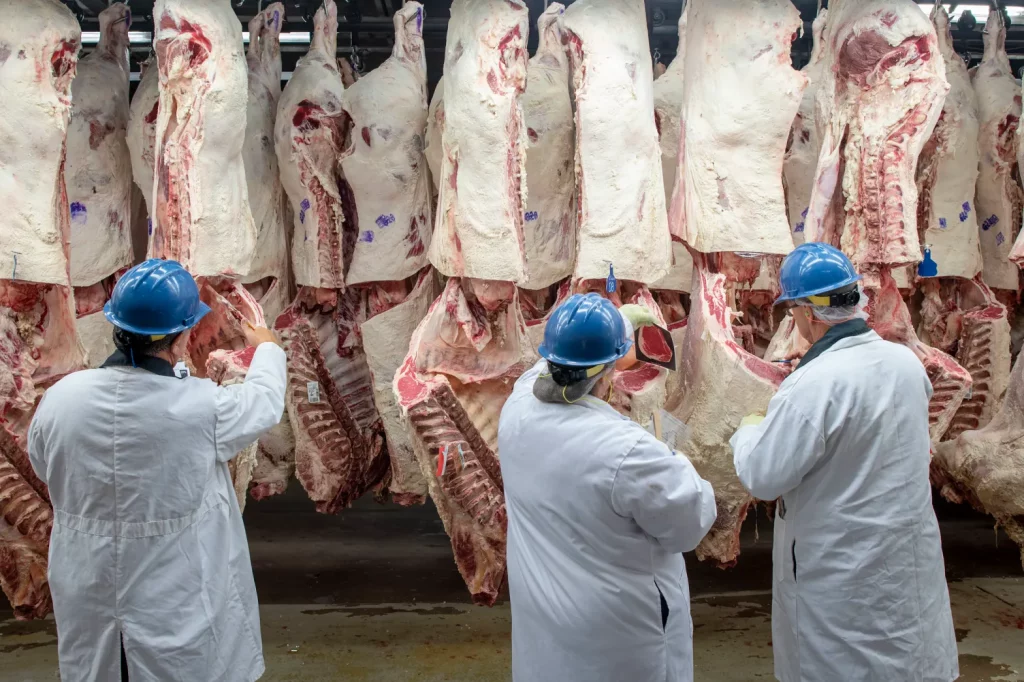 Your violations will be explained to you in the report, and you will be given a time frame to complete the requirements by improvement.
You will also be praised for meeting the requirements that you have successfully implemented. If you receive a violation, there is no need to panic unless the violation was a critical violation. Instead of panicking, find the solution for the shortcomings that were identified in the report.
If the food violation is serious, your business will face a fine. You will be ordered to conduct meat recalls and might even need to close down the business until you can fix the issue. Some violations may include:
Sick working staff on the premises.
Incomplete documentation for the meat products and processes.
Structural and maintenance problems of the building.
The staff not following the employee health standards.
Improper storage for cooked and uncooked meat.
The detection of unwanted chemicals in uncooked meat.
Cross-contamination of the meat.
Serving inadequately cooked meat, especially undercooked meat.
Poor maintenance of temperature control.
Improper meat waste management by the business.
Food poisoning can be a result of contaminated meat
The damaged meat packaging and improper labelling.
Inspections can happen anytime, but if you have an approach that makes food safety an important principle, you will always be well-prepared. To be readily prepared, make use of digital food safety management systems to make the inspection easier.
Read More: Key Components of Food Safety Compliance
What Do Food Inspectors Look for When They Are Performing Food Inspections?
The food and health inspectors will generally inspect several aspects of your food business for health inspections. They are not searching to find something to charge you upon because they can, and nor are they trying to find reasons to close down your business.
Rather, they are there to make sure that the food production and handling are safe for public consumption to reduce the risks associated with foodborne diseases. These food safety inspections are standard procedures to be followed and are integral parts of surveillance programs for foodborne diseases, which are established by the food regulatory and safety agencies to prevent outbreaks of foodborne illnesses by addressing all of the safety concerns.
There are key areas of concern about the safety of food that receive increased attention during the health inspection procedure. Being informed about these areas makes you prepared at all times to increase the chances of passing the health inspection scores.
Subsequently, it means that the food preparations and handling procedures all fall in line with food safety requirements. To make sure that your business is prepared to pass the food inspection checklist and areas, make sure to focus on these mentioned areas:
The design of your meat processing plants and the working conditions: These involve the design of your facility. The construction must be solid, the areas for meat preparation must be clean, proper drainage systems must be in place, the layout must support good hygiene practices and employees need to follow food safety protocols.
The type of foods that are being prepared: High-risk foods (such as raw meat) are those that have allergens or can become easily spoilt. These foods gain extra scrutiny from the inspectors through food inspection checklists as they require more specialized safety standards for the meat to be safe from foodborne disease outbreaks.
Employee behavior and hygiene: Food inspectors are also focused on checking how the working employees present their food safety practices and themselves while they work. The inspectors look for the absence of jewelry, no unkempt hair, no long nails, how the employees wash their hands, their proper and clean uniform, and the overall discipline in the meat production plants and the meat preparation areas.
The labelling of the meat: The inspectors will also check for labels on the meat packets that will reflect the validity of the meat products and their description to include precautions such as allergen labelling. Adequate food labelling is needed to make sure that the raw materials and the finished products on the premises are all wholesome and safe for public consumption.
Practices of meat handling: This area will include the correct control of temperature while the meat is being frozen, displayed, cooked, and cooled. Additional safety parameters for temperatures will include cooking temperatures, cooling down, and reheating to be documented as proof to represent that all of the meat processing operations are according to food safety laws.
The maintenance of equipment: The maintenance of equipment will not only ensure that the appliances are clean, the details for their maintenance and calibration, and the cleanliness of oven and fridge door handles are all maintained. They also look for sharp edges, broken sockets, and faulty appliances. Additionally, they also make sure that there are safety precautions for sharp equipment such as grinding machines, meat cutters, and sets of knives.
The cleaning techniques and their schedules: Inspectors look for systems of cleaning, such as the use of equipment that is color-coded to enable a more effective cleaning routine. They also look for directives in place to guide employees on how to use these sanitizing and cleaning materials.
Food safety management systems: This is the most critical part of food safety inspections. The inspectors look for how efficient and effective the food safety management system is. This will include how the business records its basic food safety practices, what protocols are in place to keep the food safe, and how the food is monitored. Food inspectors want to see the HACCP plans alongside the documentation systems for the food safety management system, which also includes the training procedures of the staff and the food safety certifications. This help ensures that the business is following all of the safety principles effectively.
The control of pests: Since the problems harbor harmful bacteria and diseases which can severely contaminate the food products, the food inspectors look for signs of pest control to prevent foodborne illnesses. The inspectors can also test the staff's knowledge of how to report and identify pest infestations.
What Are The Documents that a Food Business Will Need to Show to the Food Safety Inspectors?
Before there is an on-site inspection, Food Safety Checks can be requested by food safety inspectors. These checks will include your FSMS documentation, which will also encompass the HACCP plan for food producers. These checks will serve as evidence of the food safety approach being followed.
During on-site food safety inspections, the following common but critical documents may undergo Food Safety Checks:
Food Safety Manuals: These manuals contain details about equipment operation in meat processing, as well as sanitation and cleaning practices.
Safety Checklists: Food Safety Checklists cover various food business operations and help team members categorize tasks by urgency. They are vital components of the food safety management system, providing evidence of compliance with USDA and FDA meat regulations.
Monitoring Forms: These forms are records used to maintain compliance with food safety standards. They encompass cleaning, storage, delivery, sanitation, operational monitoring, and schedules for safe, documented operations.
HACCP Plan: The Hazard Analysis and Critical Control Points plan is a crucial part of safety documentation for agencies like the FDA. This risk-based model outlines safety management systems for all food companies. The plan identifies and controls safety hazards, includes corrective and preventive actions, and outlines monitoring procedures.
Licenses and Work Permits: Government agencies require various permits and licenses, including meat handler cards for employees, public health licenses, and annual food permits. Operational rights may also require permits in certain countries.
Certifications: Company certifications demonstrate business competency and standardized technical knowledge about food safety. Certifications may include food safety training certifications and food protection manager certifications.
Managing stacks of paper documents can be challenging, as they are prone to loss, manipulation, and damage. Therefore, it is advisable to organize, compile, and update these documents using a digital Food Safety Check system. EcoDocs – A Digital FSMS centralizes records, ensuring no gaps in documentation. Feel free to consult our AgTech experts to start using the digital food safety management system right away.

How do EcoDocs play a crucial role in maintaining Food Safety Regulations?
AGTech has proudly played a prominent role in maintaining USDA food regulations and FDA meat regulations through EcoDocs, an all-in-one compliance solution that promises safety and effectiveness.
It brilliantly manages all documentation such as:
HACCP plans
Food safety audits
Food safety inspections
This efficient record-keeping ability organizes data in a manner that is readily available in case of surprise visits by those much-dreaded auditors and inspectors.
How Can AgTech's Digital Food Safety Management System Prepare You For Your Next Inspection?
If you want the business to get a perfect score evaluation from the food safety inspectors, you will have to consistently maintain compliance with the food regulations and codes. The best way to manage this alongside the business is to make use of EcoDocs – a digital food safety management software offered by our company.
EcoDocs will create a system for your business within no time. After you answer some basic questions about your food business, you will get a set of food safety checklists and monitoring forms that can even be tailored to your business operations.
Some benefits that you will get by using EcoDocs are:
Quick solution delivery to prepare for your next inspection. If you come across shortcomings in the business and have a timeframe to make the system better, EcoDocs can help you provide solutions before the inspection with successful implementation so that you can make your business compliant with food safety standards before the inspection.
You can also manage your certification schedules using our digital food safety management software by storing these in databases. Automatic updates will be sent when the deadlines for reevaluations are approaching.
Our software will help ensure task completion. All the tasks will be sent as notifications to the employees for the food safety operations each day.
The software is compatible with electronic devices such as mobile phones, personal computers, and tablets. All of the features are readily available and can ensure streamlined operations.
Our digital monitoring health inspection checklists and forms can be filled by your employees once they are carrying out tasks essential to food safety.
The use of our EcoDoc's real-time dashboard will help you review the progress. You can even choose to download the daily report, print it, and even back it up for documentation for food safety evaluations to maintain a healthy record.
EcoDocs, our digital food safety management system will also facilitate the training of your food workers.
Conclusion
It is a good time for meat businesses to opt for food safety management systems like EcoDocs, as people are growing more concerned about what they consume, especially in the aftermath of COVID-19. With Folio3, you can switch from a conventional food safety management system that runs on paper to a completely digitized solution that is tailored to your business needs for a modern food safety system. With our automatically updated FSMS aka EcoDocs, you will not have to worry about food safety inspections by the authorities. You will always be ready at every time.
FAQs:
– What is the point of focus during health inspections?
Health inspection scores primarily focus on foods that may require specific time and temperature maintenance as they have the potential to be hazardous to consumers.
– What are some things you should look for when inspecting food?
Here are the key elements you must focus on as a food inspector:
If cleanliness and hygiene practices are followed.
Maintenance of raw and cooked products.
Whether the food is cooked thoroughly or not.
Whether the products are stored at safe temperatures.
How the water and raw ingredients are utilized.
– Does the FDA regulate meat production?
No, it does not. The FDA only regulates the production of non-meat products, unusual meats, and fish.
– What are the FDA standards for beef?
The FDA enforces the Federal Meat Inspection Act (FMIA) to ensure that commercially sold meat is safe, wholesome, and properly labeled. The USDA's Food Safety and Inspection Service (FSIS) conducts inspections to meet these standards.
– What is the Meat Act USA?
The Federal Meat Inspection Act (FMIA) was established to ensure that misbranded meat is not sold as food and that meat production is carried out along with the necessary sanitary practices.
– What does the Meat Inspection Act regulate?
The FMIA regulates meat production in restaurants and slaughterhouses.
– Which act provides agents to inspect any meat processing plant?
The FMIA inspects all meat processing plants to ensure healthy and safe products for consumers and customers.
– What are the two requirements of the Meat Inspection Act?
Mandatory inspection of livestock before slaughter
Mandatory postmortem inspection of every carcass
– Why is meat required to be inspected by an authorized inspector?
To eradicate all potential hazards that may be caused by consuming contaminated or undercooked meat.