How do farmers keep track of their cattle?
Dairy cattle, being the most important aspect of a farm, typically consists of 
The dairy cattle are considered as a farm's most essential asset that guarantees a farmer great profitability if handled with care and the right tools. It has also, in some places, referred to as the building-block a nation's development depends upon. 
Ruminant (cud-chewing) animals, such as goats, sheep, and cow, convert pasture forage into milk, meat or wool. These by-products are used greatly by the citizens of the areas they are produced in as a way of traditional and healthy living.


The records farmers keep of their stock are usually in the form of extensive written notes that is the least costly option. These include information such as 
Animal identification (sheep, goat, etc.)

Date of birth

Breeding dates

Services per conception

Animal's score at breeding and birthing

Pregnancy check date

Offspring size/weight

Number of offspring per birthing

Milking days, pounds per month and per lactation, etc.
Some farmers also opt to buy printed record forms from companies to keep track of the progress of their dairy herd. This may not be as cost-effective as opposed to the handwritten method, but it makes the entire process easier. For tech-savvy farmers, these records can, instead of being printed, be easily stored on computers or mobile devices as well. But these records, in one way or thee other, may be limiting when dealing with large dairy farms.
'The managerial decisions you make today can have a huge impact on the future of your herd for many years to come. As an aggressive cattle producer competing in today's …market, you need to utilize all the tools available to reduce guesswork, adding predictability to your herd performance'. – Chapps
Hence, to keep official data regarding dairy herd management, it is important for farmers to switch to more modern and digital ways of doing so, especially when they are trying to tackle large herds and their productivity on their farms.
This is where the role of different dairy herd management software systems comes in. Many such software systems have been developed thus far that help hard-working farmers make the most out of their animals while adhering to efficiency and effectiveness. 
Introduction to Dairy Herd Management Software
Dairy herd management software systems provide their users with the ability to make dairy herd farming more convenient and efficient. They help in eliminating the traditional, ineffective ways of record keeping through digitization and automation. They greatly reduce chances of mismanagement and human error.
Another very interesting aspect of these herd software systems is that the records they store and analyse can easily be accessed through any modern device such as mobile phones, windows, or even tablets. They easily keep records of the dairy livestock and also give reports of the productivity and output while predicting the ultimate performance in the dairy market in the form of profit or possible loss.
They also have high surveillance systems that survey the farms 24/7 through drones and satellites that alert the farmer when a calamity might be approaching and ways to deal with unforeseen situations and problems in order to maintain high standards to ensure profitability in the market.
Software such as Folio3's  dairy farm record-keeping software ensures that dairy cattle receive the best possible care and well-being and decrease efficiency damages caused by illness and management blunders. Such software set-ups serve as ladders for success for farmers all around the globe. Some benefits of incorporating record-keeping software are
Provides information that can be used to improve breeding plans.

To prevent spoilage or under-feeding.

Records health of animals and detects unexpected health conditions early on.

With the support of past records, one can quantify livestock performance and determine the financial gains and losses

Paints a clear picture of future financial planning.

Offers extensive farm management assistance.
Other such advanced, popular software systems include: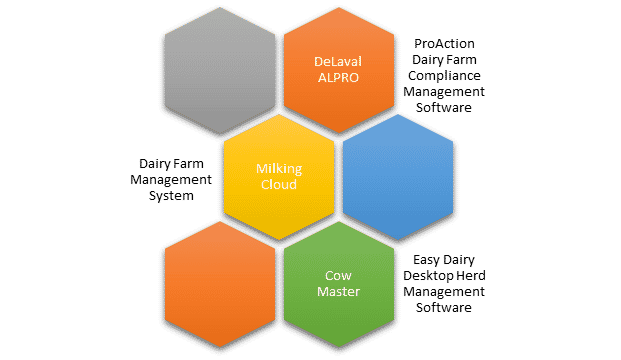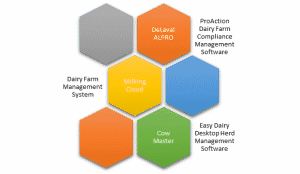 What are some features that are included in most dairy herd management software programs?
Dairy herd management software encompass many a feature that assist a farmer in handling all activities on his farm in terms of production quantity, quality, output and return in a very efficient manner that notonly saves time but resources and human-labor as well.
How can dairy herd management software help farmers increase milk production?
Dairy management software help farmers in managing even the most critical aspects of their cattle farm by making sure all the quality controls are checked upon, in order to ensure better quality dairy output that would lead to greater success. 
The best part about the software for dairy farms is that it supervises maintenance and provides preventive measures for the following areas
Automate ration and feed management

Ensure hygiene conditions of the milk tanks 

Ensure all cattle are tagged, recorded and weighed on arrival

Schedule drug implants 

Ensures scheduled quality checks
Therefore, it is safe to say that dairy management systems provide a safe check and balance on the dairy activities while providing the farmer with his strengths and weaknesses that may prove as silver-lining for users who are solely aimed at getting the most out of their farms while standing at a secure position against his competitors.
Following are few of the ways through which a farmer, with the help of herd software, can increase his milk production
 Error-checking: Trying to balance records and data sheets by hand can increase chances of human error. Dairy records management systems are programmed in a manner that reduces chances of error greatly in order to avoid unforeseen situations.
Automatic Information Storage: As soon as a farmer logs his current farm data into the software, he need not worry about spending excess time in order to maintain it over and over again. Herd management software automatically maintains the data stored and analyses it to keep track of information such as the milk yield.
Generates efficiency indicators: DHMS automatically generate productive, reproductive and efficiency indicators like persistency of milk yield, day of lactation, day of calving interval, body weight, etc.
Reminders: Daily reminders regarding tasks such as cattle feeding and milking times make it much easier for farmers to keep track of the progress of their cattle and their conditions and maintain it as well. Such reminders also save time, energy and also help them prioritize one task over the other and work more efficiently.
Daily reports: Organized and timely reports generated by HMS give an overall summary of the farming activities and improve managerial efficiency that aid a farmer in better looking after their cattle and manage their milk production as well.
How the software can help farmers make data-driven decisions?
Herd management software are programmed in a manner that make a farmer's job efficient which would ultimately result in effective management of the farm, resulting in greater yield and better quality while ensuring proper animal care in the process. 
Below are a few features of HMS that help farmers make better decisions
Data Optimization

: The software stores information in an organized manner that allows farmers to easily locate and analyze a selected set of information that is needed at that time.
Error-checking

: HMS have error checking features that reduce chances of unforeseen circumstances and possible issues that may occur in terms of milk quality.
Generates visual indicators

: Data stored in the form of pie charts and graphs can easily be comprehended by farmers to analyze the progress and make decisions accordingly.
Allows comparisons

: HMS systems also allow comparisons between two groups of animals at different intervals and point of time and their progress and then proceed forward in ways that would lead to better productivity. New feedstuff for animals and medicinal effects can also be checked in similar ways. 


How do you go about choosing the right dairy herd management software program for your farm?
There are a number of ways through which one can decide which dairy herd management software could be the one that proves as a great success for their farms and with so many to choose from, the decision can be a little overwhelming. 
Hence, below are a few ways that might help
Ask the right questions:

While making the decision to adapt a technology, it is imperative that one must understand which technology is best suited to their needs, rather than ones that may only seem attractive and trendy but don't fit the bill, doing so by asking the relevant questions and managing their expectations.
Types and levels of decisions:

A farmer's decision level should match the technology and the needs of his farm. Different intensities of needs would require different levels of decision-making. For instance, in order to track an animal's health and breeding levels, a farmer would want to choose the software that gives him the feature of

sensors

that can track and indicate such needs.
Utilization and Organization of Data:

How the software accumulates, organizes, presents and analyzes the data a farmer stores is of extreme importance to the farmer. A farmer may, therefore, choose one which ticks all the boxes for him as making the right data-driven decisions is very crucial for a farm's productivity and profitability.
FAQs:
Q: Who should consider using dairy herd management software for their farming operation, and why?
A  farmer who wishes to make the most out of his cattle farm, make sure that the progress of his farm accelerates and is able to meet the standards of the new technological era, wants to contribute to greater yield output and gain great profit in the market in return would be wise to opt for a suitable dairy herd management software; as these software systems are a clear road towards a revolutionary and successful change.